Alice Fisher
The Observer, Sunday 14 December 2014
Jump to comments (…)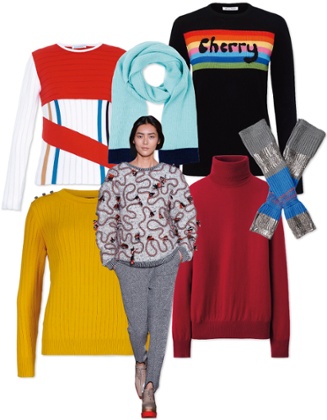 Clockwise from bottom left: Shoulder-button jumper £39.50, marksandspencer.com, Red and white, £375, JW Anderson (matchesfashion.com), British alpaca scarf, £99, ally-bee.com, Cherry, £270, bellafreud.com, Fingerless gloves, £195, Eleven Everything (net-a-porter.com), Cashmere polo neck,£59.90, uniqlo.com, Model wears Stella McCartney A/W14
There's a scene in the film American Beauty where Lester Burnham, in the throes of a midlife crisis, decides to get fit. He joins his neighbours for a jog and they quiz him about his ambition. Does he want to lose weight? Increase strength and flexibility? He stops and blurts out: "I just want to look good naked."
The moment has stuck with me because it's a sentiment I relate to. Duh, not just about being naked, but the desire for things to be superficially OK. To avoid exposing my insecurities. It's a feeling I have about a lot of things, and one I definitely have about Christmas.
A stupid dichotomy has developed around Christmas. You're either meant to be a sentimental consumer or a cynical refusnik. Well, what if you're neither? What if you just want to fulfil your family obligations and expectations without thinking too hard about how you feel?
Like a lot of people, Christmas for me is a time of dreary motorways, of logistics and schedules. Of entertaining a brother-in-law who has voted Ukip, a mother-in-law who talks about paedophiles over the turkey and visiting my mother who has severe dementia and doesn't know who I am. I don't have space to try to enjoy it, but I do want to look the festive part.
The best armour for Christmas is a good jumper. Pick the right colour or pattern and you will look festive as soon as you put it on. They don't crease, so you seem fresh no matter how long you've sat in traffic and if, like my dad, your relatives think central heating is only for emergencies you'll be wrapped up against the chill. This year you'll also look trendy. Colourful, patterned jumpers were a catwalk hit – everyone from Balenciaga to Stella McCartney included knitwear in their collections.
There are good high-street buys to be had out there. Uniqlo is famous for its well-priced cashmere, and the rainbow of colours on offer means you should find a hue that's both unusual and, more importantly, flattering. Polo necks have made a big comeback this year, so I'd buy one of them. I've seen loads of jumpers in bright red and an interesting mustardy gold colour this season. Both hues look upbeat.
If I have any money left over after the shopping, I'll treat myself at Bella Freud. Her Cherry jumper looks so cheerful it could see you through the most disastrous family do. Similarly these fingerless gloves (a seasonal if fiddly hit along with wristwarmers) make me smile despite the price tag. They're by new brand Eleven Everything and the metallic thread looks super-festive.
A jumper won't paper over all the cracks of Christmas, but it will provide physical warmth even if emotional succour is lacking. I hope you have a good time, or that at least you manage to look like you are.
Follow Alice on Instagram @aliceefisher
Sign up for the Guardian Today
Our editors' picks for the day's top news and commentary delivered to your inbox each morning.
Sign up for the daily email