Hadley Freeman
The Guardian, Monday 24 November 2014 13.23 GMT
Jump to comments (…)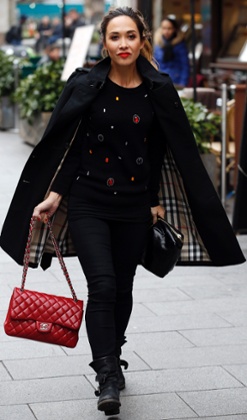 Myleene Klass dressing down in gem-studded jumper, Burberry, Jimmy Choo and Chanel. Photograph: Neil Mockford/Alex Huckle/GC Images
I am a B-list celebrity and am interested in becoming a class warrior. What should I wear?
Doncha K.N.O. Whoiam, The Groucho Club
Glad you asked, Doncha! Celebrity class warriors are the absolute dernier cri this season, and it is essential to nail the look because if you don't look the part, people might not take you seriously. Pearls before swine, am I right? But don't actually wear pearls, of course, as they might get tangled when you climb the ramparts.
The first thing you have to decide as a celebrity class warrior is which class you are warrior-ing for (is "warrior" a verb? Dunno, check with Stephen Fry next time you meet for drinky-poos in the Groucho). The obvious one to go for is, naturally, the rich – the poor, beleaguered wealthy. It really is just shocking the way people think it's totally acceptable to criticise the wealthy in a way that they wouldn't the poor. Double standards or wot?!
Can't someone take up their cause? Taran-tara! Enter stage left – Myleene Klass! Now, Myleene is a woman who has always known the power of fashion, whether it's shilling for an internet clothing line with her BFF Holly Willoughby or famously wearing a famous white bikini on a famous reality TV show for famous people, famously. Last week, she became Britain's latest celebrity class warrior when she raged against the mansion tax to a pathetically stunned-looking Ed Miliband.
Now, we can spend all day wondering why Klass was on a political panel show in the first place, but I think we have long gone past the moment when anyone in this country is surprised to see a C-list celebrity on a political TV show. We can spend a little longer musing on Klass's belief that £2m only buys you "a garage" in London, when a cursory search online shows me that it can just about buy a monster truck of a fully detatched house with offstreet parking around the corner from my flat. But then, I do live in a part of town populated by lowly hacks, which probably renders the entire area as sub-garage status in Klass's eyes.
Of more relevance to today's discussion is what Klass wore in the wake of her TV triumph, and here is where she really came into her own. She took to the streets wearing biker boots, black jeans, a sweatshirt studded with gems, a Burberry coat slung over her shoulders, fashion editor-style, and a giant red Chanel bag almost as big as the aforementioned monster truck house. Well done, Myleene! The biker boots (Jimmy Choo, I think?) give a suitably militant dash to an outfit that cost several grand, thus emphasising that while Klass is fighting, she is fighting for those who can afford oversized Chanel bags. It's a mystery why Bob Geldof is dicking around trying to cure Ebola. Doesn't he know the real charity cases are at home – in their £2m garages, to be precise?
But maybe you don't want to fight for the rich. Maybe you want to fight for the (ew!) poor. Which brings us, inexorably, to Russell Brand. Now, I have written about Brand before so I don't want to spend any longer on this subject than legally necessary. To do otherwise proves, in the eyes of Brand and his sweetly devoted fans, that one is part of the educated elite conspiracy determined to bring down 'umble Russell. What these people fail to consider is that it's actually Russell who is being the snob here. How are we simple folk supposed to understand what the hell the self-described autodidact is going on about when he insists on using elitist words such as "paradigm" every two seconds? But seriously, the only reason anybody could possibly object to Brand would be snobbery. Never mind that last week he made a video of himself (topless, for some reason) proclaiming that he would "never, never, never, never endorse" treating women in a derogatory way, even though he once gave a promotional quote to Neil Strauss's book about pick-up artists, The Game, in which he promised that the book "turned me from a desperate wallflower into a wallflower who can talk women into sex" ("the whole pick-up thing – that seemed appealing to me when I was a kid," Brand said in his video. Brand was 31 when he gave Strauss that quote). I mean, it's obvious, really. Sodding elite conspiracy.
Anyway, my point about Brand today is that I have been very taken with his changing fashion of late. Some of us still remember him fondly when he seemed to model himself on Edward Scissorhands, minus the scissors. But in his new incarnation as a class warrior, his clothes have become suitably more ratty, more grey, more layered. Very eco-warrior chic, with a Westwood twist. I miss the eyeliner of yore, but I applaud Russell for co-ordinating his wardrobe to his changing lifestyle. It is the one essential for a celebrity class warrior, as Russell and Myleene know.
• Post your questions to Hadley Freeman, Ask Hadley, The Guardian, Kings Place, 90 York Way, London N1 9GU. Email ask.hadley@theguardian.com
Sign up for the Guardian Today
Our editors' picks for the day's top news and commentary delivered to your inbox each morning.
Sign up for the daily email