Nicole Mowbray
The Observer, Saturday 1 November 2014 13.11 GMT
Jump to comments (…)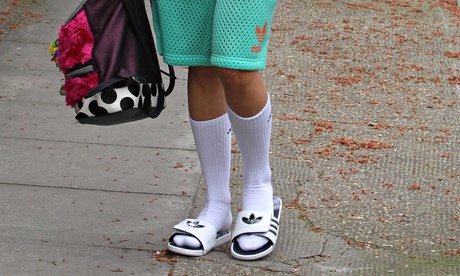 From catwalk to pavement, socks and sandals have become the must-have look. Photograph: Beretta/Sims/REX
Summer's long over and the nights are drawing in, but if you want to stay in vogue, don't pack away those sandals just yet. While Birkenstocks (the orthopaedic sandal created 50 years ago) were again summer's must-have shoe, the good news for the financially prudent fashionista is that they're still good for winter. The bad news is that you'll be wearing your double-strapped Birkenstock Arizonas with socks.
Heeled, open-toed sandals with school-style ribbed ankle socks have been in vogue during winters for the past five or so years. But the flat 'Stocks and socks look has traditionally only really been a favourite of European campers and modern hippies. Yet despite the traditional derision, the past few months has seen this tricky trend find popularity with the fashion crowd. First, the influential fashion blog Man Repeller came out in favour of the look, and then fashion plates Mary-Kate and Ashley Olsen were spotted in theirs. Now, thanks to a glut of appearances in fashion magazine shoots and on Instagram, Stocks and socks have finally filtered down to the woman on the street.
"The Birkenstock look is a more affordable take on looks from Prada and Marni," says Katherine Ormerod, senior fashion news editor at Grazia, but she warns there's a finite period to get your slide on because the visuals only work with a flash of bare skin. "As soon as it's cold enough that you can't have bare legs and you need tights, the look is over. The shoe is so masculine and utilitarian that it needs to be worn with a flash of skin to balance it out. Flat sandals and socks look good worn with a pretty dress, bare legs and a chunky jacket. It doesn't work with tights."
She says that, if you're trying the look with jeans, the legs need to be rolled up so you can see a peep of leg between the top of your socks and trousers. The socks are important. A favourite among the 'Stocks and socks pack is Folk's chunky Graphic People pair, in navy. "The sock needs to be substantial," says Ormerod. "Something with a bit of a hiking vibe to it. Best get them in a grungy colour, a grey or an olive or a brown, and wear them a bit slouched down. The whole look needs to be outdoorsy. It can work for men as well as women too, as part of that whole urban woodsman look. You know: the beard, lumberjack shirt, rolled-up jeans, sandals and socks …"
While there's no doubt this trend will be comfy and warm (especially because Birkenstock have brought out a sheepskin-lined Arizona sandal), conventionally sexy it is not. According to Ormerod, however, it is more flattering than at first it may appear. "While this look is always going to look great on a woman with long slim legs, like many things, socks and sandals can be flattering to lots of shapes and sizes because of the proportions involved. Things that are heavier around the ankle make your leg look slimmer. This is why big chunky boots are currently so popular too."
If the thought of sandals and socks is enough to have you running for the sartorial hills, look away now. Crocs look set to be the "ugly shoe" that takes next summer by storm, having been seen on the catwalk at London fashion week. Thankfully it's not Crocs and socks though, at least not yet.
Sign up for the Guardian Today
Our editors' picks for the day's top news and commentary delivered to your inbox each morning.
Sign up for the daily email