Rosanna Greenstreet
The Guardian, Saturday 1 November 2014
Jump to comments (…)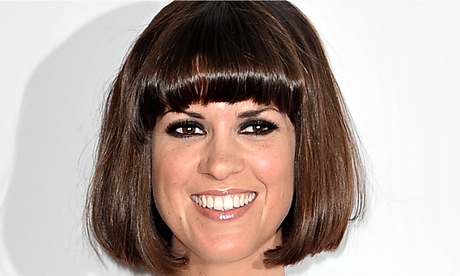 Dawn O'Porter: 'I am 35 and I've fallen into my style.' Photograph: Gareth Cattermole/Getty Images
I probably take half an hour to get ready – quick shower, wash my hair, head upside down, hardcore blow-dry, hairspray into the roots to make it as massive as possible. The thing that takes longest is my hair (about 10 minutes), because there's a lot of back-brushing, then I straighten the fringe and bob it under.
Over the last couple of years, I've specifically shopped so that I don't have panic attacks when I need to get ready. I have loads of easy-to-wear vintage dresses in bonkers colourful prints, so that any shoes go. I don't have an awful lot of tight clothes, so I rarely have that "I am feeling too fat for this" moment.
My makeup is the same if I am doing a red carpet or just going out for dinner with friends. I moisturise, put on eye cream and then a light dusting of this new mineral foundation by Jane Iredale, which I found here in LA. I put it on with a brush and I don't have to touch it all night. I love big, smoky eyes, so I load up on either thick brown or black eye makeup – I love Smashbox's, because it is really solid and doesn't move.
I usually go for nude lips. I like the idea of bright red lips, but I look like a tranny when I wear lipstick, and I don't like the fact that when I kiss my husband [Chris O'Dowd], I squash it all over him.
I am 35 and I've fallen into my style. I don't take massive risks any more: I used to try to do things that were really different, then go out and just feel awkward, uncomfortable and embarrassed. I don't do that to myself any more. I know what works.
• Dawn O'Porter's new vintage-inspired clothing line is available at bobbydop.com.
Sign up for the Guardian Today
Our editors' picks for the day's top news and commentary delivered to your inbox each morning.
Sign up for the daily email