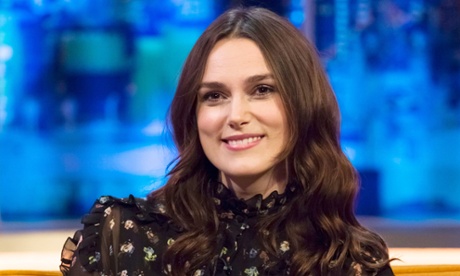 'I've had my body manipulated so many times' … Keira Knightley on a talk show last week. Photograph: Brian J Ritchie/Hotsauce/REX/Brian J Ritchie/Hotsauce/REX
Keira Knightley's decision to pose topless on the cover of Interview magazine might have seemed a controversial move. But the star of new film The Imitation Game has admitted her decision to bare all on the cover of the September issue was in fact a protest against the media for its damaging attitude towards body image.
Speaking to the Times this week, Knightley said she only agreed to pose topless for photographer Patrick Demarchelier on the proviso that the image would remain untouched by Photoshop or any other editing procedures: "That [shoot] was one of the ones where I said: 'I've had my body manipulated so many different times for so many different reasons, whether it's paparazzi photographers or for film posters. And that [shoot] was one of the ones where I said: 'OK, I'm fine doing the topless shot so long as you don't make them any bigger or retouch.' Because it does feel important to say it really doesn't matter what shape you are."
She continued: "I think women's bodies are a battleground and photography is partly to blame. It's much easier to take a picture of somebody without a shape; it simply is. Whereas actually you need tremendous skill to be able get a woman's shape and make it look like it does in life, which is always beautiful. But our society is so photographic now, it becomes more difficult to see all of those different varieties of shape."
It's not the first time the actress has spoken out about her breasts being Photoshopped. She admitted to being "shocked" after seeing her breasts enlarged on the film poster for 2004's King Arthur, later telling a US magazine: "Those things certainly weren't mine."
Sign up for the Guardian Today
Our editors' picks for the day's top news and commentary delivered to your inbox each morning.
Sign up for the daily email