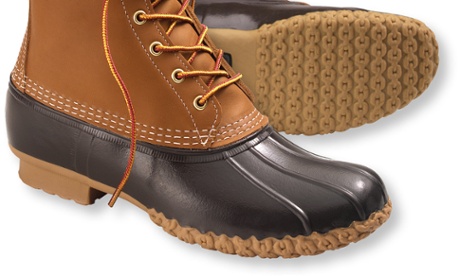 Women's LLBean Boots … expect yours mid-spring. Photograph: PR
Hey ho, the polar vortex is coming, and the only boots to carry you through intact it are these. Except you can't get them until mid-spring 2015.
LL Bean duck boots, the extraordinarily warm rubber-and-leather boots which, of course, look nothing like a duck, are predicted to sell almost half a million pairs this winter. Then there's the 100,000-long waiting list. The good (or perhaps useless) news is that they do ship from their Maine plant to the UK, but it takes a few weeks so you can expect yours to come in time for Easter 2015.
While the three year waiting list days of the Birkin have slowed down (this bag, created by Hermès for the French singer Jane Birkin in the 1980s supposedly after the company's CEO saw her struggling with a giant bag while boarding a plane, created a frenzy of demand), waiting lists are still two-a-penny. In fact, the sure-fire way to turn anything cult is to make a limited run of it.
The sudden rush screams gimmick, but the company insists they're not. A quick call to the hotline reveals that they are indeed "selling something crazy" and the whole thing is "unprecedented". So what's the fuss?
Well they're incredibly waterproof, in a way not dissimilar to Sorel boots, just with a little heel, you know, like a duck. They're also warm and built to last. According to Carolyn Beem, company spokesperson at LL Bean, kids are to blame. "Younger people are buying them," she told Yahoo Style. "They're all over college campuses and high schools … without changing anything, they're back in style."
Add that to the sudden boom in practical outerwear, their appearance last winter on The Sartorialist, the polarising rise of the lumbersexual and possibly Alexa Chung in a lumberjack jacket for Tommy Hilfiger, and practical footwear is having a moment. Johnny David, deputy editor at Esquire, thinks it's finally gone mainstream: "The male lumberjack look might finally be on the wane – you know the game's up when even Leonardo DiCaprio is seen sporting a ridiculous beard, though, to be fair, he is about to play a real-life frontiersman – but some of the accoutrements of that trend will be with us for a while yet."
The obvious solution is to make more of them, except it's not that easy. Inundated with requests, the company issued a statement on their site: "We make our boots by hand, so sometimes we just can't make them fast enough, but we promise that our team of stitchers in Brunswick, Maine, will start handcrafting yours as soon as possible". What's more they're apparently hiring 100 workers as well as a second injection-moulding machine.
But while practical-wear seems more acceptable among women (we've been wearing trainers and wellies to work for years), it has taken its time with menswear. "You might scoff at the man who buys all-weather boots," says Davis. "But as with other areas of style, men have woken up to some of the everyday practicalities women have struggled with for years. Like, how to look stylish in the British winter.
"As we know, style and comfort haven't always made happy partners."
Sign up for the Guardian Today
Our editors' picks for the day's top news and commentary delivered to your inbox each morning.
Sign up for the daily email