Brigid Delaney
theguardian.com, Sunday 2 November 2014 21.37 GMT
Jump to comments (…)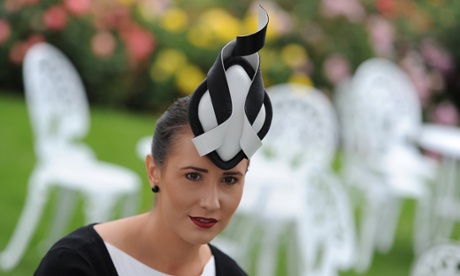 A fashions on the field contestant waits for competition to commence on Derby Day. Photograph: Julian Smith/AAP
It's likely that if you remember anything about Prince William and Kate Middleton's wedding in 2011, it will be Princess Beatrice's crazy "pretzel" hats.
Oh how we laughed and mocked them!
Referring to Beatrice's Philip Treacy "hat" the Daily Mail asked the question on the minds of many: "is that an octopus on her head, or a pair of antlers?"
Fast forward to 2014 and we're all Beatrice and Eugenie now. The headwear de jour at the Spring Racing Carnival's most fashionable day – Derby Day – is the percher.
Described as "the new fascinators" they sit – if that is the correct term – like a mini-shield or a Google Glass headset, a couple of inches from the face, hovering but stable, held firm to the head by way of headband and pins.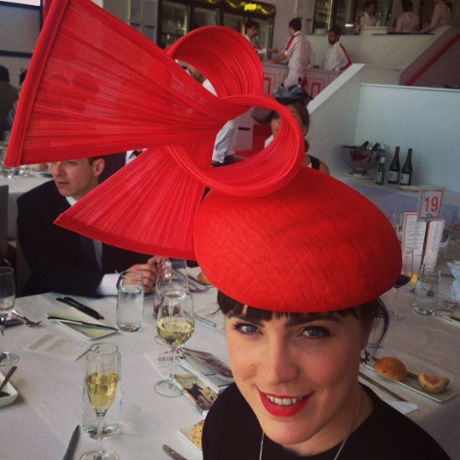 A punter in the Birdcage at Derby Day. Photograph: The Guardian
In the Rose Room at Derby Day you could count on one hand the hats that looked like hats. Instead the headgear was skewwhiff, crooked, asymmetrical, tilted – sitting on the right of the skull, like some sort of accident. These were hats that appeared incomplete – like a bite had been taken out of them, or part of the hat had been made, then the milliner had got too busy making other hats and had forgotten to complete it. But no matter. If everyone is wearing incomplete hats, then it ceases to look bizarre.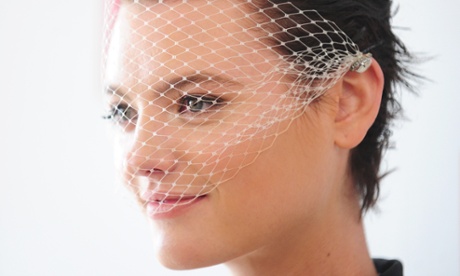 Montana Cox in the Birdcage on Derby Day. Photograph: Tracey Nearmy/AAP
In the Rose Room, the Birdcage, the corporate marquees, the Nursery, the betting ring all these magnificent portions of hats made up for their lack of width by going high. High spirals, high feathers, high nets, high spikes, high floral arrangements – mostly in Derby Day's trademark colours of black and white.
A hazard of traditional wide-brimmed hats at the races is that cheek kissing becomes difficult (the kisser has to awkwardly duck under your hat to make contact – and then they can get tangled in netting, and can bang-up against the brim.) But the current crop of hats is more likely to take a passer-by's eye out.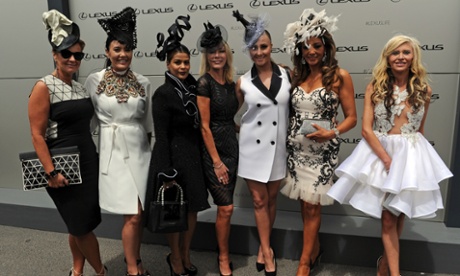 The Real Housewives of Melbourne posing for a photo. Photograph: Julian Smith/AAP
Those with the highest hats created a sort of exclusion zone around themselves, but the extra personal space this afforded them in the crowded marquees was offset by the lean they developed from their lopsided headgear. Couple this with freakishly high stilettos and buckets of booze, and you feel that by remaining upright – by being able to walk without tipping over – is a peculiar feat – more astounding to watch than anything on the actual racecourse.
Sign up for the Guardian Today
Our editors' picks for the day's top news and commentary delivered to your inbox each morning.
Sign up for the daily email