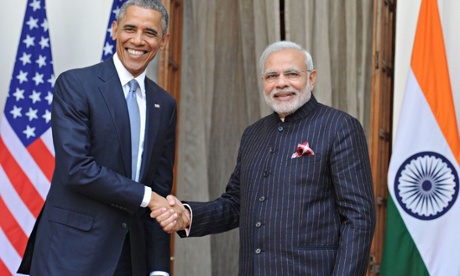 Suits you, Sir: India's prime minister Modi sports his bespoke suit as he meets Obama. Photograph: Barcroft Media/UPI/Landov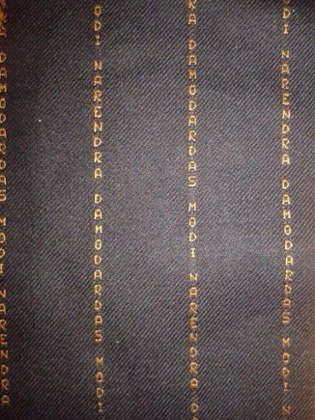 Detail of Narendra Modi's pinstripe suit. Photograph: Harneestin/Twitter/Harneestin/Twitter
In the glamorous and dynamic sphere of world leader fashion, one man rules them all: Narendra Modi. Like a supermodel, the Indian prime minister is said to have changed outfit three times on Sunday but it was his otherwise sedate suit, worn to host a lunch for Barack Obama during the US president's three-day visit, that seems to have made the biggest impact.
He appears to be wearing a pinstripe suit, but zoomed-in photographs reveal the stripes are actually letters repeatedly spelling out Modi's name. Sadly for Modi, he can't claim to be the pioneer. The recent trend was set on the political world stage in 2011 by noted style trailblazer, the ousted Egyptian president Hosni Mubarak (unfortunately for him, in a sartorial equivalent of the misspelled tattoo, the lettering in English on his suit reads "HOSNY"). But the concept goes even further back. A piece in Fortune magazine in 1999 mentions one personalised pinstriped suit owned by the former Argentine president Carlos Menem, and the boxer Evander Holyfield who has "four suits that read, respectively, EVANDER HOLYFIELD, THE CHAMP, THE CHAMP ONE MORE TIME, and THE THREE-TIME CHAMP."
The burning question is where can you get one? The bespoke tailors King & Allen is just one company offering a personalised pinstripe suit – they introduced it about three or four years ago, though nobody has ordered one yet. "The price, I think, is quite prohibitive," says co-founder Jake Allen, whose business is based on more affordable tailoring.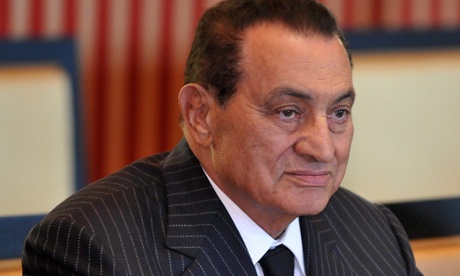 Ousted Egyptian president Hosni Mubarak in an earlier example of the trend. Photograph: TAMAS KOVACS/EPA
The cloth, made by the longstanding manufacturers Holland & Sherry which supplies much of Savile Row, has to be specially made at a minimum of nine metres – this is enough for Allen's company to make two suits, which would cost upwards of £15,000 (more for cloth with gold thread).
Who would wear one? Allen laughs. "An egomaniac? Generally I think it is a great touch, having something so personal made. The beauty of it, as extroverted suit styling always should be, is that it is very subtle. See the suit from any more than 3ft away and it looks like a regular pinstripe. It is only when you get really close that you can make out the lettering, or even that it is lettering. When Obama and Modi are hugging, Obama is probably noticing it for the first time."
Not everyone is keen. "I think it's absolutely horrible," says Robert Johnston, style director of GQ. "One thing I learned very early on in life is clothes should never be fun. There is always an attempt to jazz up a pinstripe – I've seen rainbow pinstripes, or done in gold thread, or this with your name. It's just a gimmick, isn't it? It's a name tag. What is he – a world leader or someone going to a photocopying conference in a Travelodge?"
Sign up for the Guardian Today
Our editors' picks for the day's top news and commentary delivered to your inbox each morning.
Sign up for the daily email