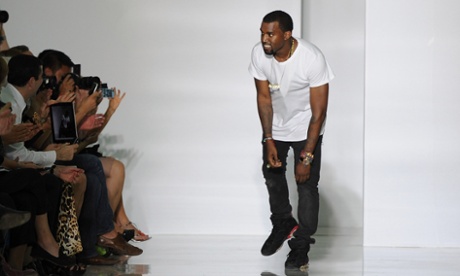 Kanye West at his debut fashion show in 2011 Photograph: Pascal Le Segretain/Getty Images
Kanye West: full-time designer? Like we said, it's just a rumour, although recent collaborations with APC, not to mention designing trainers for Nike and Adidas, suggest the rapper has a knack for fashion. But what would that mean for music? And does the fashion world need Kanye more? Two writers kick off the debate.
Priya Elan: 'The Bowie of his age: he cannot possibly stop now'
Kanye West is a terrible pop star. Contentious and unquotable, he sticks out like a sore thumb in pop music's current climate obsessed with likability and "maintaining the brand". But his refusal to play the game in those shallow pools finds him attached to a much older lineage.
With his provocative musical offerings and chameleon like ability to change, he shares a space with the likes of Bowie and Madonna artists who enjoyed putting noses out of joint, pathologically determined to ruffle the status quo. In fact you could make a case for West being the last great pop star. "No one's near doing what he's doing, it's not even on the same planet," Lou Reed wrote about him before he passed away. Reed – seen as a musical genius but also a legendary curmudgeon – saw a kinship in West. West's last two solo albums Yeezus (a minimal, metal-machine crunch of a record that was No in 31 countries) and My Beautiful Dark Twisted Fantasy (bursting-at-the-seams opulent) were sharp, on-point commentaries about modernity and the American condition.
Falling out with white America over Taylor Swift-gate in 2009 seemed to have emboldened West into a place of fearlessness. As he rapped on the truly wonderful Power: "They say I was the abomination of Obama's nation. Well that's a pretty bad way to start a conversation." With the dexterity of a true poet he has helped to hold up a mirror to modern America, exposing casual racism and deconstructing his own ridiculous public persona in the process. His influence continues to be reflected in the most interesting modern acts such as FKA Twigs and Kendrick Lamar. This much needed provocateur cannot possibly stop now.
Ed Cumming: 'Go for it: fashion needs men like him'
Frankly it doesn't much matter what you and I think about West's plans. He has proven time after time that the usual markers of embarrassment or self-awareness are for him merely road signs on the motorway to celebrity transcendence. Still, here we are, and there's plenty to suggest that the Kanye West Fashion Mission is not completely doomed.
Musically, West's skill has always been dragging rap out of cliche; even his failures are rarely boring, and the same is true of his fashion sense. You might hate his jumble of couture, streetwear and sportswear – often eccentric, occasionally unfathomable – but you can't really deny its influence. Those Stronger-era shutter shades became festival uniform for years, while his College Dropout geek chic launched a thousand Shoreditch Tinder dates. He practically invented health goth.
Rappers tend to be given an easy time by style critics who overlook any amount of leopard-print suits or Game of Thrones-esque jewellery because hip hop is what it is: brash, flash, sometimes obsessed with cash.West has always taken the fashion world seriously (he even did work experience at Fendi and Giusseppe Zanotti, although it remains unclear how often got the teas in) and it has grudgingly learned to take him seriously back. For a man not noted for his equanimity in the face of criticism, he even seemed to listen to the dire reviews of his first catwalk show in October 2011. Bonkers, ill-fitting eclecticism, furs, zips and glitter, was reined in to a simpler, mainly black collection in 2012. Going full-time on fashion would be a risk, but West's risks tend to pay off. Fashion needs all the brave men it can take, and West has the Givenchy leather skirt-trousers to go with his big talk.
Fashion or music: where does the world need Kanye's talents the most? Tell us what you think below
Sign up for the Guardian Today
Our editors' picks for the day's top news and commentary delivered to your inbox each morning.
Sign up for the daily email