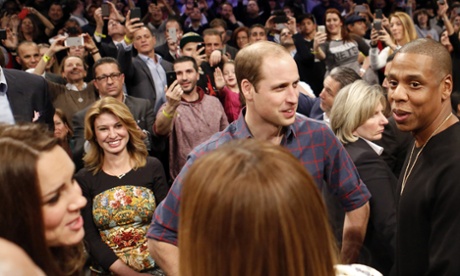 William and Jay-Z and Kate and Beyoncé have a chinwag. Photograph: Kathy Willens/AP
So Kate and Wills met the royals. Jay Z and Beyoncé, that is. It happened at a basketball game in Brooklyn, between the third and the fourth quarter, if you want the details. Here are five key questions about that historic meeting
What did they talk about?
Probably not LeBron James' skills, we'd wager. Wills looks like he's drinking in Jay Z, trying to take in every minute in his company. Beyoncé and Kate looked more at ease together (that's the back of her head) – maybe they're discussing the stresses that come with being the most photographed women on the planet. Them's the breaks.
Why was Wills wearing that shirt?
He's showing his Brit background there. A checked shirt is more typically the kind of attire for watching rugby rather than basketball; he needs to take a leaf out of his idol's book and adopt a sweatshirt.
Is Kate subtly showing off her stonking wedding ring?
Quite possibly. It's certainly a gobstopper, and goes some way to counter Bey's power play with an oversized denim Louis Vuitton handbag.
Is sparkly tweed appropriate for a basketball game?
Maybe not. But at least Kate didn't do a Wimbledon and go in a sport-appropriate outfit, like a basketball vest and headband. That really would let the side down.
Who has the best hair – Kate or Bey?
This is question is rhetorical obviously. It's Beyoncé. She's the queen of haircuts.
Sign up for the Guardian Today
Our editors' picks for the day's top news and commentary delivered to your inbox each morning.
Sign up for the daily email